Subzi Pasanda : Zero Oil & Weight Loss Recipe – True to the name, "subzi pasanda" is a veggie dish you will love! calorie-laden cashewnut paste is replaced with a healthy paste made with cauliflower and onions. Serve hot with whole wheat parathas for a healthy meal.
How to make Subzi Pasanda
When on a weight loss regimen, it's best to have foods that are delicious so that it doesn't feel like you are torturing yourself and can continue it for a longer time. Traditionally, gravy or curry based vegetable preparations use rich cashew nuts paste to add thickness. The calorie-rich cashew nuts are replaced with a thick paste of cauliflower and onions in this recipe. You can also use nutritious cauliflower leaves for garnish in this recipe too. Just a small switch can make the recipe ideal for weight loss and keeps you fit.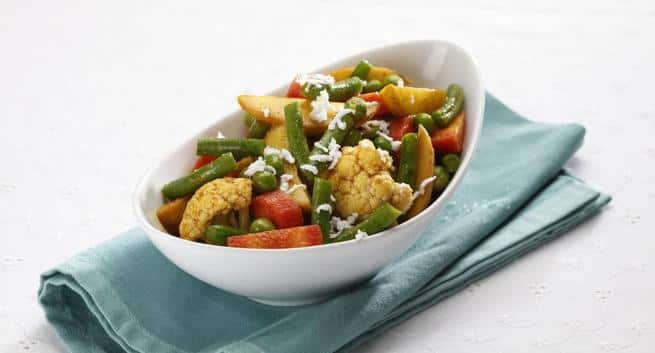 Ingredients to make Subzi Pasanda
1 ½ cups mixed vegetables (carrots, potatoes, cauliflower, French beans, green peas)
½ tsp dried fenugreek leaves (kasuri methi)
1 tbsp besan (Bengal gram flour)
¼ cup low fat curd
½ low fat milk
1 tsp cumin seeds
½ tsp garam masala
2 tbsp coriander, finely chopped
Salt to taste
For the paste of Subzi Pasanda
2 cups onions, sliced
½ cauliflower, grated
1 cup low fat milk
1 clove
1 stick cinnamon
2 green chillies
1 medium piece ginger
2-3 cloves garlic
Method to make Subzi Pasanda
First prepare the paste. For it, heat a nonstick pan and add all the ingredients listed for paste. Mix well. Simmer for 8-10 minutes so that onions and cauliflower turn soft. All the liquid will evaporate and the ingredients will be cooked properly.
Allow it to cool and blend it in the grinder to make a fine paste.
Mix the curd, milk and besan in a bowl to form a paste so that no lumps are formed. Set aside.
Use a non-stick pan since you are cooking without oil. Once the pan is hot, add the cumin seeds. Once dry roasted, add the dried fenugreek leaves and dry roast them again.
Mix the prepared onion and cauliflower paste and sauté for 1-2 minutes on medium flame. Add few drops of water to prevent the paste from sticking or burning.
Add the besan mix and stir. Cook for 1-2 minutes.
Add salt, garam masala and ½ cup water. Cook for 3-4 minutes. Keep stirring it every minute.
Add the mix vegetables that are boiled in salt water and chopped. Cook for a few more minutes until all flavours are blended.
Serve hot with paranthas or bhakris. You can try a green parantha, jau or barley parantha or dal parantha with this recipe.